July 23, 2021 – Scott Rosenquist, CFA®
We have reached the half-way point in 2021 and the financial markets have performed well year to date. The economy continues to rebound from the pandemic while earnings estimates are increasing for the upcoming reporting period.
The pandemic threw forecasters for a loop as they tried to figure out the economic impact to corporate earnings. Given the unprecedented stimulus from both the Federal Reserve and the Treasury department, the depth and duration of the economic drop was not as severe as some feared and analysts have been reversing course with their earnings estimates. Some companies who normally issue guidance for their earnings declined to do so last year given the uncertainty last year leaving analysts in the dark. Some of those companies are now reinstating guidance.
The chart from J.P. Morgan's Guide to the Markets below shows valuation metrics for the S&P 500 as of 6/30.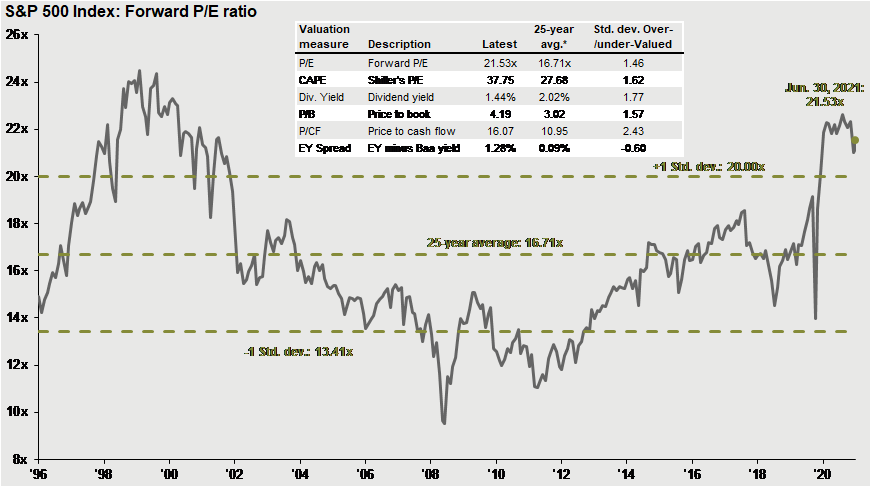 Focusing on the forward price to earnings ratio which uses earnings estimates for the next twelve months, the market valuation has declined off its recent high while still returning just over 14% in the first half of the year. While still high historically, earnings are catching up with prices resulting in a lower valuation metric. Several variables go into market valuation including interest rates, the growth outlook for economy and investor sentiment but earnings growth is a primary driver. The market will have all eyes on the guidance companies give for the remainder of the year.
The opinions voiced in this material are for general information only and are not intended to provide specific advice or recommendation for any individual. Although general strategies and / or opinions are revealed, this post is not intended to, nor does it represent or reflect, transactions or activity specific to any one account. To determine which investment(s) may be appropriate for you, consult your financial advisor prior to investing. All performance referenced is historical and is no guarantee of future results. All data and information is gathered from sources believed to be reliable and is not warranted to be correct, complete or accurate. Investments carry risk of loss including loss of principal. Past performance is never a guarantee of future results.