Market Minute
November 2021 – Scott Rosenquist, CFA®
Employment data for the month of October released by the Labor Department last Friday showed broad gains in hiring across sectors. Payrolls increased by 531,000 compared to estimates of 450,000. The previous two months were revised higher by a combined 235,000. Job gains continue to be concentrated in the leisure and hospitality sector (+164K) as the Delta wave of the pandemic recedes and the related unemployment programs expire. The unemployment rate declined to 4.6% from 4.8% in the previous month.
The U.S. economy continues to recover from the pandemic shock in terms of employment as the chart from J.P. Morgan indicates. The U.S. is now down 4.2 million jobs from its pre-pandemic level in February 2020. The question is what the post pandemic level of employment will look like which is important given one of the Federal Reserve's mandates is maximum employment. Estimates from the St. Louis Federal Reserve show excess retirements of just over three million due to COVID-19. Rising asset prices from stocks to real estate may have made that decision easier. The current labor force participation level of 61.6% remains 1.7% below pre-pandemic levels. Wage growth continues to tick higher to attract employees and bring more people into the workforce.
The Federal Reserve announced the tapering of their monthly asset purchases after their latest meeting. Starting this month, the Fed will reduce purchases of Treasury and mortgage-backed securities by 15 billion a month with the goal of completing the wind down by July 2022. Fed Chair Jerome Powell has stated there is still ground to make up in the labor market before raising interest rates.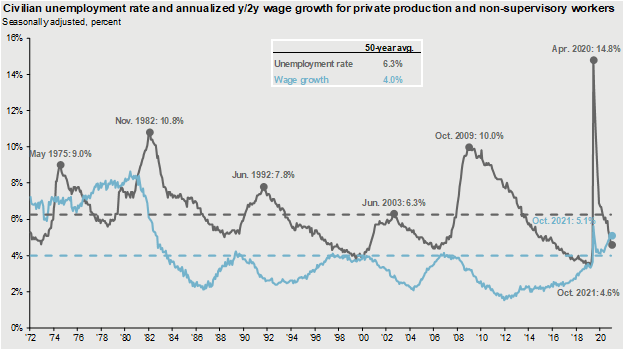 Source: BLS, FactSet, J.P. Morgan Asset Management. – Guide to the Markets – U.S. Data are as of November 5, 2021.
The opinions voiced in this material are for general information only and are not intended to provide specific advice or recommendation for any individual. Although general strategies and / or opinions are revealed, this post is not intended to, nor does it represent or reflect, transactions or activity specific to any one account. To determine which investment(s) may be appropriate for you, consult your financial advisor prior to investing. All performance referenced is historical and is no guarantee of future results. All data and information is gathered from sources believed to be reliable and is not warranted to be correct, complete or accurate. Investments carry risk of loss including loss of principal. Past performance is never a guarantee of future results.