Mark your calendar for THURSDAY JULY 28TH! Vantage is sponsoring a Sounds of Summer live music event at Harmony Park in Arlington Heights. Come visit our booth and grab some fresh popcorn for the concert. See additional details below.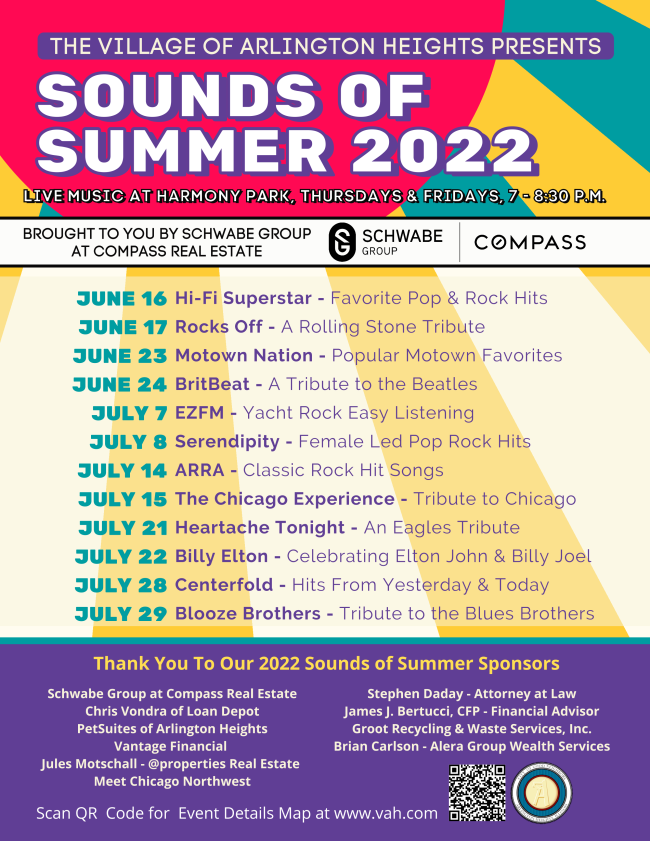 Where can I park?
The Village offers 10 parking lots, including several parking garages, all within a few minutes' walk from Harmony Park. Sounds of Summer concerts draw large crowds and the Vail Street garage can fill up. If your regular parking spot is full – try one of our many nearby options! See the Parking Map Please note that private business lots shown on the map do not permit Alfresco or Sounds of Summer parking and violators are subject to being towed.
Am I allowed to bring alcohol?
Alcohol is not allowed in Harmony Park. Alcohol consumption must be confined to outdoor seating areas of local restaurants.
Can I bring food?
Yes! You can bring food to enjoy or you can order food from a nearby restaurant! We just ask that you please help to keep Harmony Park clean by properly disposing of your garbage.
What is your policy regarding weather or rainouts?
Sounds of Summer will be canceled if there is a strong chance of thunderstorms or large amounts of rainfall, however, light rain will not cause cancellation. Weather will be monitored by Village staff and updates will be posted on our Facebook page.
When can I save seats for a Sounds of Summer concert?
Saving of seats with blankets may begin as early as 2 p.m., however, items placed prior to 2 p.m. will be removed. Items removed may be recovered in the lost & found bin behind the stage. The Village is not responsible for lost or stolen items.
Why can't I save seats overnight or start early in the morning?
Harmony Park is a public park that must remain accessible for general public use. Unfortunately, the practice of saving seats for Sounds of Summer has expanded over the years, and people have been leaving blankets overnight, or early in the morning. This practice has harmed the grass in Harmony Park, causing dead patches throughout the season. Additionally, necessary park maintenance and the stage delivery process require staff to walk the lawn area where blankets had previously been set up. It is for these reasons that the saving of seats will begin at 2 p.m. moving forward.
This material is for informational purposes only. Vantage Financial is an Investment Advisory Firm registered with the Securities and Exchange Commission ("SEC"). SEC registration does not imply any particular level of skill or expertise.