Market Minute
September 2022 – By Scott Rosenquist, CFA®
Yields across the treasury market have continued to rise this year as the Federal Reserve maintains its aggressive rate hiking plan to combat inflation.  The rise in yields has delivered negative returns for fixed income investors across the bond market, with the broad index down double digits for the year.  This dynamic has hurt broadly diversified portfolios that rely on the fixed income portion to offer ballast to equity exposure. 
The chart below from J.P. Morgan's Guide to the Markets shows the treasury yield curve as of August 31st compared to the start of the year. I highlighted this chart earlier in the year, but I think this is one of the more important topics for investors this year and worth revisiting. The shaded portion highlights the 10-year range for yields, and we are now at the top end of that for the short end of the curve reflecting the Federal Reserve's rate hiking path.  The Fed Funds rate is currently 2.25-2.50% with continued hikes coming this month and projected for the two remaining meetings in November and December.  Recent comments from Fed officials have pushed back on the notion that they would cut rates next year which led to the recent market volatility.  They continue to look for clear evidence that inflation is turning down and maintained that price stability is a top concern.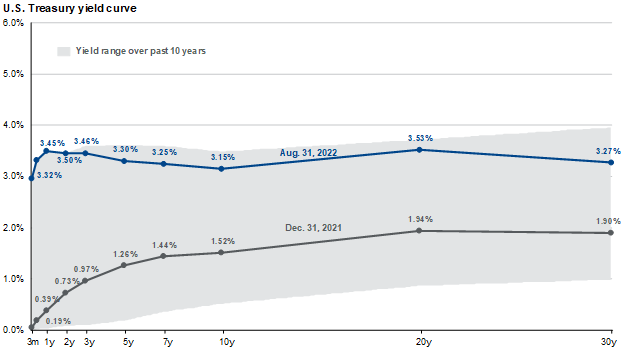 Source: FactSet, Federal Reserve, J.P. Morgan Asset Management. Guide to the Markets – U.S. Data are as of August 31, 2022.
The shape of the yield curve remains inverted with the short end higher than the long end. This has been a reliable recession indicator and highlights the markets concern that the Fed will restrict economic growth by raising rates too far. The timing aspect of this indicator can vary but we continue to monitor economic data and the outlook for corporate earnings going into year end and into 2023.
The opinions voiced in this material are for general information only and are not intended to provide specific advice or recommendation for any individual. Although general strategies and / or opinions are revealed, this post is not intended to, nor does it represent or reflect, transactions or activity specific to any one account. To determine which investment(s) may be appropriate for you, consult your financial advisor prior to investing. All performance referenced is historical and is no guarantee of future results. All data and information is gathered from sources believed to be reliable and is not warranted to be correct, complete or accurate. Investments carry risk of loss including loss of principal. Past performance is never a guarantee of future results.