Market Minute
November 2022 – By Bob Veres
When people talk about an economic recession, it's hard to know who to believe. The U.S. economy experienced negative growth for two consecutive quarters, Q1 and Q2, according to the U.S. Bureau of Economic Analysis. That means we have already managed to survive a recession, right?
Except that employment and consumer spending were high during that period, and prices were going up. Those are not indicators of an economic pause.
Now we learn that the American economy's gross domestic product (GDP) gained 2.6% in the third quarter, according to a recent release from the Bureau of Economic Analysis. This was higher than the consensus forecast of 2.3%—and since forecasters were expecting economic growth, they clearly didn't think we were mired in a recession.
If you look at the chart of GDP, the Covid-induced economic standstill jumps off the page, but so too does the rapid recovery, induced by the fiscal stimulus provided by the U.S. Central Bank.  After that, the picture that emerges is growth much as it was before, albeit a bit bumpier.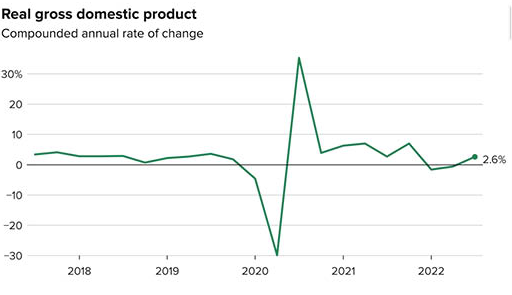 None of this means that the economy won't experience a recessionary decline at some point in the near—or far—future.  There is nothing wrong with periodic declines in growth; the role of a recession is to clear out the economy by exposing unprofitable investments and forcing companies to tighten their belts and make more productive investments with their retained capital.  But for now, the U.S. economy is experiencing increases in consumer spending, job and wage growth—and there is nothing wrong with that, either.
Vantage Financial welcomes guest contributions. Please know the information, opinions, and forecasts expressed in the article below are presented from unassociated parties and do not necessarily reflect the opinions of Vantage Financial Partners Limited. This article is shared as general information only and should not be considered advice.​​
The opinions voiced in this material are for general information only and are not intended to provide specific advice or recommendation for any individual. Although general strategies and / or opinions are revealed, this post is not intended to, nor does it represent or reflect, transactions or activity specific to any one account. To determine which investment(s) may be appropriate for you, consult your financial advisor prior to investing. All performance referenced is historical and is no guarantee of future results. All data and information is gathered from sources believed to be reliable and is not warranted to be correct, complete or accurate. Investments carry risk of loss including loss of principal. Past performance is never a guarantee of future results.