Market Memo
March 2023 – By Kyle Rohrwasser
An eternity ago in 2021, the Federal Reserve kept reiterating that inflation was "transitory". We, like many others, were skeptical because of the amount of money printed and moved into the financial system. This collided with a wildly efficient shipping industry that had stopped dead in its tracks (pun unintended) while demand for products continued to grow. But how do we get those products at such low and reasonable prices? Well, many of you may be familiar with China and US trading but you don't understand how truly efficient the ships and logistics have gotten in the past 30 years.
What do you think costs more?
One, one-way, non-first-class plane ticket from Shanghai to LAX.
40-foot shipping container (2,694 cubic ft) from Shanghai to LA.
If you thought the shipping container would have to cost much more then you are devastatingly wrong. They are essentially the same price at around $1,500 currently and that is only if you are willing to fly economy on an airline that I bet you have never heard of.
To put the shipping container industry into perspective, regarding cost, Nike can currently ship about 8,000 boxes of shoes in one 40-foot container. So, some simple math shows us that Nike ships each shoe box across the entire Pacific Ocean (6,485 miles) for about 19 cents per pair of shoes. This puts the cost to ship a container to pre-pandemic levels when inflation was hovering around 2%. The chart below shows the correlation between Global Supply Chain Pressures (GSCPI) and inflation over the last 5 years. Although not perfect, they tend to move in turn with each other, with GSCPI preemptively before inflation in 2022.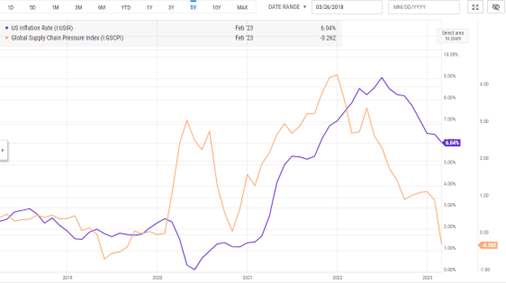 When we look back towards the peak of the GSCPI these same shipping containers cost over $10,000! To reference the Nike example, at this time it would have cost them $1.25/per shoe box. That is quite the difference when you sell 780M pairs worldwide each year.  We saw the inflation rate peak about 6 months later. Obviously, this is just one factor in the macro inflation calculation but as "pricing to move products" continues to normalize to pre-pandemic levels we should start to see it correlated with the pricing of our products here in America.
Ignoring the pun in the title, it seems that originally the Federal Reserve was expecting inflation to be transitory, and it's believed this metric would have been one of the reasons they believed that. With the cost of goods skyrocketing due to extreme shipping increase costs brought on by the pandemic, they assumed as this normalized the corporations would follow and lower pricing. It appears that they may have expected too much too early but it is a promising sign for inflation to see the cost of shipping officially get back to pre-pandemic levels. I am curious to see if the inflation trails this metric again and what inflation looks like after a 6-month lag.
The opinions voiced in this material are for general information only and are not intended to provide specific advice or recommendation for any individual. Although general strategies and/or opinions are revealed, this post is not intended to, nor does it represent or reflect, transactions or activity specific to any one account. To determine which investment(s) may be appropriate for you, consult your financial advisor prior to investing. All performance referenced is historical and is no guarantee of future results. All data and information is gathered from sources believed to be reliable and is not warranted to be correct, complete, or accurate. Investments carry a risk of loss including loss of principal. Past performance is never a guarantee of future results.