Market Minute
September 2023 – By Bob Veres
After a month of declining stock returns, and constant predictions of an upcoming recession, it's fair to ask: how healthy is the U.S. economy?
Some of the tea leaves that economists are reading offer mixed messages. The 3.8% unemployment rate for August is higher than the previous 3.5% (bad?), but a related number, labor-force participation (the percentage of working-age people actually working) ticked upward to 62.8%, the highest rate since February 2020 (good?). More people are looking for work after being on the sidelines, which would seem to be a positive sign for economic growth. Also: average hourly earnings are up 4.3% over a year ago, which is higher than the inflation rate (see below).
The growth rate of the economy has been anything but robust (2.0% in the first quarter, 2.1% in the second, still to be determined in the third), but it has been consistent since the roller coaster of the pandemic (see table). Inflation? The annualized rate for the 12 months ending in July was 3.2%, up from 3.0%—which might not be ideal, but it is certainly an improvement over the 6.5-7.0 percent rates of the past two years.
Of course, interest rates are much higher now than they were a year ago, which tends to put a damper on profits and growth. But many corporations and individuals took advantage of the lower rates and refinanced. As a result, corporate financing costs as a percentage of profits is at a 60-year low (good, for now). The Inflation Reduction Act and the CHIPS act has spurred a boom in companies spending on construction of factories and facilities (good, but probably temporary).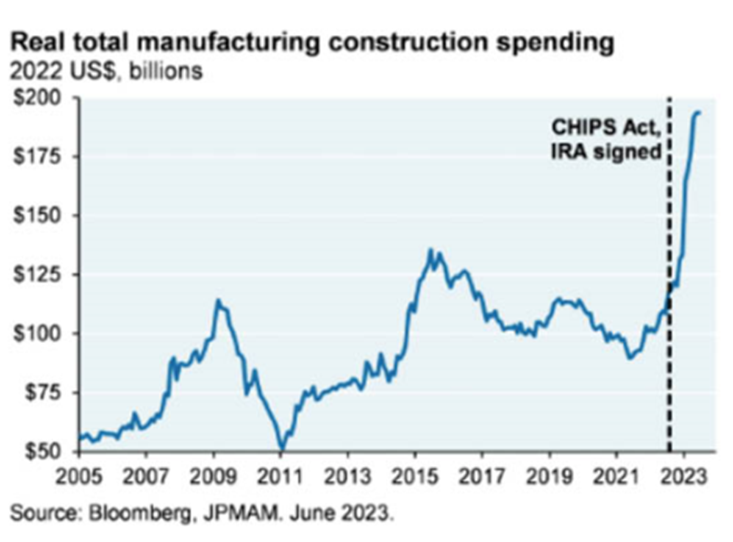 Of course, the old joke still applies: that economic forecasts exist to make the predictions of crystal ball readers and soothsayers look professional. Anybody who tries to tell you that they know that the markets are about to go up or down, or who dare say that a recession will happen in this future month or quarter, should be required to wear a wizard's hat and gypsy shawl while crouched over a crystal ball. We have, and will hear, constant predictions about all sorts of things, but the truth is that none of us know where this ride is taking us; only that patient investors have, over time, been rewarded for their ability to tune out the noise.
The opinions voiced in this material are for general information only and are not intended to provide specific advice or recommendation for any individual. Although general strategies and / or opinions are revealed, this post is not intended to, nor does it represent or reflect, transactions or activity specific to any one account. To determine which investment(s) may be appropriate for you, consult your financial advisor prior to investing. All performance referenced is historical and is no guarantee of future results. All data and information is gathered from sources believed to be reliable and is not warranted to be correct, complete or accurate. Investments carry risk of loss including loss of principal. Past performance is never a guarantee of future results.