August 10, 2021 – Scott Rosenquist, CFA®
July's employment data released by the Labor Department last Friday beat expectations while the unemployment rate fell to 5.4% from 5.9%. Payrolls increased by 943,000 compared to 845,000 expected by economists. The previous two months were also revised higher by a combined 119,000. Job gains continue to be concentrated in the leisure and hospitality sector (+380K) as the economy reopens. Next month's report will be closely monitored for any impacts of the delta variant that may not have been captured in July.
Considering the revisions, the past two months have seen close to 1.9 million jobs added but remain down by 5.7 million from February 2020. The question for the Federal Reserve will be if this is considered the substantial further progress towards their goal of low unemployment and stable inflation that they are waiting for. This would allow them to ease off the gas pedal starting with the reduction of the monthly asset purchases in the bond market. This will happen prior to an increase in interest rates. The next few employment reports will be an important factor as Fed officials will likely want to see more data including the impact of the enhanced unemployment benefits ending and schools reopening this fall.
The chart from J.P. Morgan's Guide to the Markets below shows the progress in employment along with wage growth.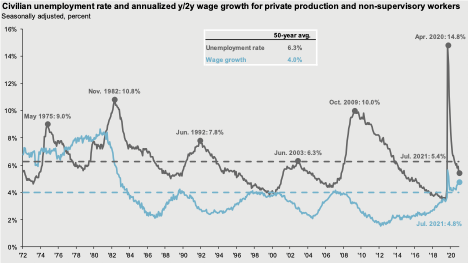 Source: BLS, FactSet, J.P. Morgan Asset Management.
Guide to the Markets – U.S. Data are as of August 6, 2021.
Fixed income investors should welcome higher rates which would allow them to earn a better return compared to current market conditions. The path to get there will be volatile but in the meantime, diversification in the fixed income markets remains important.
The opinions voiced in this material are for general information only and are not intended to provide specific advice or recommendation for any individual. Although general strategies and / or opinions are revealed, this post is not intended to, nor does it represent or reflect, transactions or activity specific to any one account. To determine which investment(s) may be appropriate for you, consult your financial advisor prior to investing. All performance referenced is historical and is no guarantee of future results. All data and information is gathered from sources believed to be reliable and is not warranted to be correct, complete or accurate. Investments carry risk of loss including loss of principal. Past performance is never a guarantee of future results.